The MEF defines the Carrier Ethernet 2.0 Manageability attribute as Service OAM that enables subscribers and service providers to check the continuity of an EVC across the entire network, and trace the path of a service to Maintenance Points. CE 2.0 extends traffic management to include both ingress and egress bandwidth profile capabilities with granularities per UNI, per EVC and per Class of Service.
Management of the entire Carrier Ethernet 2.0 service lifecycle includes service activation and testing, Multi-CoS performance monitoring, and comprehensive fault management. This requires tools like Zero-Touch Provisioning (ZTP) and Service Activation Testing to accelerate service activation, Y.1731 performance monitoring for SLA assurance and 802.1ag Connectivity Fault Management for rapid fault detection and isolation.
iConverter NIDs support all the required Service OAM functions defined by 802.1ag and Y.1731, and can be configured as a Maintenance End Point (MEP) or Maintenance Intermediate Point (MIP).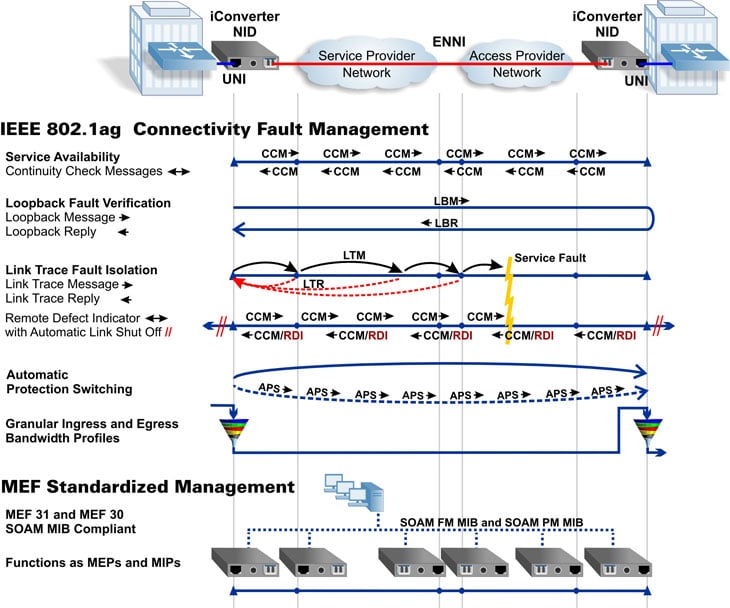 Management of global Carrier Ethernet 2.0 services requires a standardized management interface for Network Management Systems (NMS), Element Management Systems (EMS), Billing Support Systems (BSS) and Operational Support Systems (OSS) to easily interoperate with a variety of different network devices. To address this requirement, the MEF has developed the Service OAM MIBs (SOAM MIB). The MIB is a Management Information Base, used by the SNMP network communication protocol to manage entities in a network. The MEF has ratified specifications and Implementation Agreements for the management of IEEE 802.1ag functionality with MEF 30 and 31 Service OAM Fault Management MIB (SOAM FM MIB).
Up to 10,000 iConverter NIDs can be managed with Omnitron's NetOutlook® EMS that supports standard northbound interfaces for cross application integration with existing NMS, BSS, OSS and umbrella applications.
iConverter NIDs Enable CE 2.0 Management
iConverter GM4 NIDs are CE 2.0 Certified to Manage the Ethernet Service Lifecycle
Zero-Touch Provisioning and Y.1564 service activation reduce costs and accelerate service deployments
802.1ag Connectivity Fault Management proactively monitors service and provides tools for rapid fault isolation
G.8032 and G.8031 Ethernet Protection Switching
Supports MEF 30 and 31 Standardized MIBs (SOAM FM MIBs)
NetOutlook® EMS streamlines the entire Carrier Ethernet 2.0 service lifecycle of cloud services, business Ethernet services and mobile backhaul deployments.
Intuitive and easy-to-use Element Management System
Simplifies the management of up to 10,000 iConverter GM4 NIDs and third-party devices