Carrier Ethernet 2.0 Interconnect and MEF 33 E-Access
Carrier Ethernet has truly become a global service. Delivering services across multiple regions and operators and interconnecting to out-of-franchise Enterprise customer locations and cell towers is a business necessity that requires wholesale arrangements between service providers. The challenge is that the wide variety of Carrier Ethernet services makes interconnecting these services a complex and time-consuming process. Aligning the different SLAs and CoS parameters, along with QoS and bandwidth profiles between service providers at the ENNI, can take weeks of negotiation to create a single end-to-end service.
The MEF has addressed this challenge with CE 2.0 MEF 33 E-Access standard, which simplifies the service interconnection, and streamlines the deployment of wholesale services with a single Class of Service. MEF 33 E-Access is a data tunnel that allows transport of an EVC across an Access Provider network from an ENNI to an ENNI or an ENNI to a UNI. The end-to-end subscriber EVC traffic Multi-CoS is re-mapped and aligned at the ENNI hand off to the E-Access service with a single CoS. The SLA performance metrics are maintained end to end with no degradation to the service.
E-Access benefits wholesale Ethernet Access Providers by standardizing and simplifying the delivery of wholesale services, and creates revenue opportunities by helping tier 1 and 2 carriers reach customer locations that are not within their footprint. E-Access helps Service Providers reach more customers, reduce costs and accelerate the time to deploy wholesale services by eliminating the need for complex interconnect agreements with Access Providers.
Most NIDs are capable of delivering E-Access services, and multiple NIDs are typically deployed at the out-of-franchise location. The Service Provider deploys a NID for demarcation of the Subscriber service, and the E-Access Provider deploys a NID for demarcation of the E-Access services. In some cases, three or four NIDs can be deployed. This multiple-NID scenario creates complexities with multiple points of failure, and with defining responsibilities for the installation, maintenance and inventory of the NIDs.
The iConverter HybridNID® is the only Virtual NID (VNID) available today in the market that allows both the Service Provider and the Access Provider to efficiently manage and provision the service to a single demarcation device.
Learn how the HybridNID enables wholesale Ethernet services
The iConverter HybridNID and GM4 NID are compliant to the MEF 33 E-Access specification, and align different Classes of Service at the ENNI with remapping between partner service providers.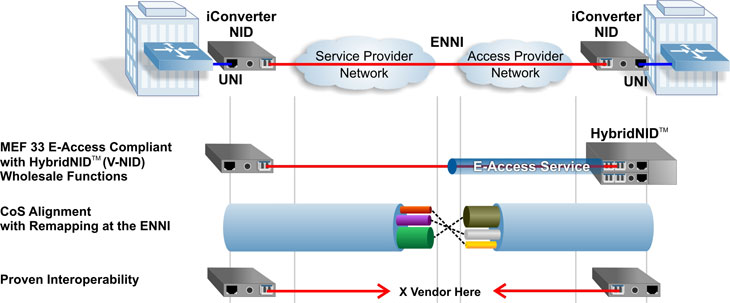 Interconnect is fundamental to global deployments of Carrier Ethernet 2.0, and interoperability between different vendors' equipment is essential to interconnect across multiple networks.
"Interoperability testing is the key to CE 2.0 service deployments"
– Bob Metcalfe, Inventor of Ethernet at the MEF CE 2.0 Press Conference
iConverter NIDs provide industry-leading interoperability with the most comprehensive 802.1ag and Y.1731 standards implementations. iConverter NIDs have successfully participated in CableLabs® and EANTC Interoperability Demonstrations (including testing of CE 2.0 attributes).
For more information on the EANTC Interoperability Demonstration, download the free white paper