The Carrier Ethernet 2.0 Multiple Classes of Service (Multi-CoS) attribute allows network optimization to fit a wide range of customer application requirements. Multi-CoS enables services within an EVC to be differentiated, prioritized and assigned unique bandwidth profiles (rate limiting). The MEF further defines Multi-CoS as standardized Classes of Service that are associated with MEF-defined performance objectives and performance tiers.
MEF 23.1 introduced the industry's first standardized Multi-CoS Performance Objectives (MPOs) with new metrics for specific applications, including Mobile Backhaul, VoIP, Video Conferencing and Financial Trading. In addition to the ITU Y.1731 performance metrics of Frame Delay (latency), Inter-Frame Delay Variation (jitter) and Frame Loss Ratio; MEF 23.1 adds Mean Frame Delay and Frame Loss Range. These MPOs are defined to enable precise SLA metrics for application-specific delivery.
The MEF further defines MPOs with performance tiers that allow Service Providers and Enterprises to predict expected SLA performance metrics based on network distances. Four distance-related performance tiers specified by MEF 23.1 include Metro (205km), Regional (1,200km), Continental (7,000km) and Global (27,500km) point-to-point services.
iConverter GM4 NIDs are CE 2.0 Certified to support Multi-CoS traffic management, with ITU-T Y.1564 service testing and Y.1731 performance monitoring for each Class of Service.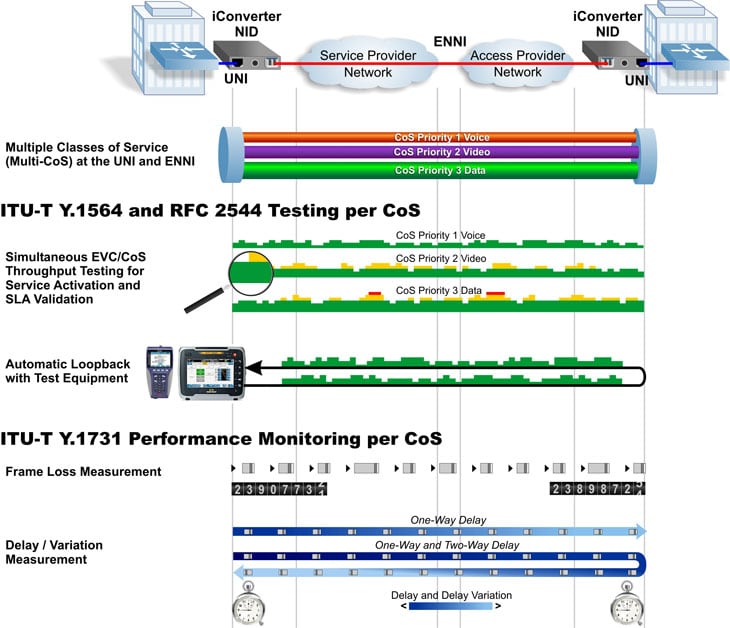 iConverter NIDs can be remotely controlled to initiate and perform Y.1564 testing, and can run multiple test flows simultaneously. For example, when turning up Multi-CoS, Y.1564 can ensure that data traffic on a low-priority CoS does not affect voice traffic on a high-priority CoS. Service Providers who deploy iConverter NIDs can speed time to market and reduce operating costs by turning up services with fewer truck rolls and having less test equipment in the field.
iConverter NIDs are also compatible with the loop-up/loop-down commands initiated from popular third party test-sets and/or 802.1ag compliant equipment, offering flexible integration with existing test equipment and test plans.
Once the service is activated, iConverter NIDs support ITU-T Y.1731 performance monitoring, that monitors delay, delay variation, frame loss, mean frame delay and frame loss range for each Class of Service.
In the following Mobile Backhaul Multi-CoS application example, each Class of Service flow is differentiated with a priority and bandwidth profile for a mobile backhaul service.

CoS 6 is for Synchronization data, which has a lower data rate, or Committed Information Rate (CIR), but the highest CoS priority because it requires the lowest possible latency.
CoS 5 is for Voice data, which has a lower data rate, or Committed Information Rate (CIR), but a higher CoS priority because it requires low latency for voice quality.
CoS 3 is for Video data, which requires a higher CIR for streaming video and a higher CoS priority because latency and dropped frames can impact video quality.
CoS 1 is for Web and Background Email Data. This has a high CIR and low priority.
iConverter NIDs Enable CE 2.0 Multi-CoS
CE 2.0 Certified to support MEF 23.1 Multi-CoS Performance Objectives and Distance Tiers
Supports Y.1564 Service Testing and Y.1731 Performance Monitoring per CoS
Advanced traffic management and policing of Bandwidth Profiles per CoS
Enables Application-Oriented SLAs for Mobile Backhaul, Cloud Services, Financial Transactions and other services