Overview
Integrate Copper and Fiber in Point-to-Point Ethernet Networks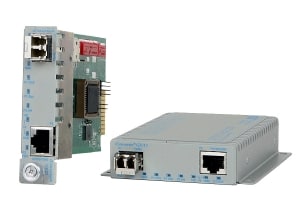 Copper-to-Fiber Media Converters are flexible and cost-effective devices for implementing and optimizing fiber links in all types of networks. Fiber optic connectivity is necessary when the distance between two network devices exceeds the transmission distance of copper cabling. Copper-to-fiber conversion using media converters enables two network devices with copper ports to be connected over extended distances via fiber optic cabling.
Media converters for Ethernet networks can support integrated switch technology, and provide the ability to perform 10/100 and 10/100/1000 rate switching. Additionally, media converters can support advanced features including VLAN, Quality of Service (QoS) prioritization, Port Access Control and Bandwidth Control. These features facilitate the deployment of new data, voice and video services to end users. Media converters can provide all these sophisticated switch capabilities in a small, cost-effective device.
Deployed in Enterprise, Government, Data Center, and Telecom networks, media converters have become the Swiss army knife of networking to enable connectivity and fiber distance extension.