Irvine, CA – September 16, 2020 – Omnitron Systems (www.omnitron-systems.com), a leading provider of Ethernet, Power over Ethernet (PoE) and fiber network products, today introduced its next generation of RuggedNet® Industrial 10Gigabit ruggedized Ethernet switch products with Power over Ethernet (PoE) up to 100W.
Designed for Industrial and outdoor network applications powering Wi-Fi Access Points, Small Cells, IP surveillance cameras and a variety of industrial and transportation equipment, the RuggedNet® 10G devices are designed for resilience and redundancy with features such as Industrial Media Redundancy (MRP), Link Aggregation (LAG) and Rapid Spanning Tree (RSTP) protocols.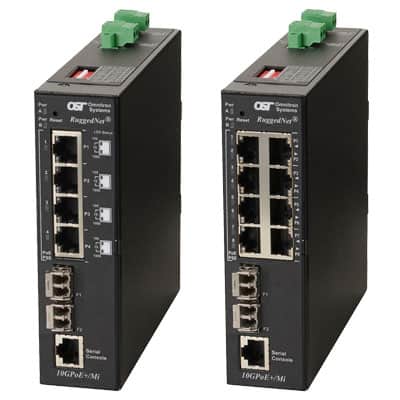 The new RuggedNet® 10G devices are available as managed or unmanaged models. The managed models are manageable using standard Web browsers, Omnitron's SNMP NetOutlook® Network Management Software or any standard SNMP interface. The device management facilitates remote monitoring, configuring and scheduling features, as well as Powered Device (PD) client monitoring and automatic failure recovery restart as required. Event notification is handled via SNMP traps, email and SMS text messages.
"Omnitron Systems has recognized a clear market demand for high PoE power, high bandwidth and temperature hardened devices for Industrial, transportation and Internet of Things (IIoT) applications." said Sankar Ramachandran, Director of Product Management. He then added "These market requirements coupled with demand for reliability, fault tolerance features and remote manageability make the compact RuggedNet® 10G PoE Ethernet switches the ideal one-stop solution to meet these applications needs."
The compact 6-port and 10-port RuggedNet®10G Ethernet switches feature two (2) Small Form Pluggable (SFP) 10Gigabit fiber-optic uplink ports and four (4) or Eight (8) 10/100/1Gigabit copper user/access ports. Models are available with Ethernet access ports with or without PoE. PoE models support the IEEE 802.3af/at/bt standard of 15, 30, 60 or 100Watts per port.
All RuggedNet® models can be shelf, wall and DIN rail mounted. All operate in extended (-40 to 75°C) operating temperature.
All RuggedNet® 10G Ethernet Switches and PoE Switches are designed and manufactured in the USA. They are TAA compliant and feature a limited 5-Year Warranty and 24/7 technical support.
About Omnitron Systems
Omnitron Systems designs and manufactures Ethernet Switches, Power over Ethernet Switch (PoE) devices for copper and fiber networks applications. Omnitron's switches, Network Interface Devices, media converters, extenders, CWDM/DWDM and TDM multiplexers are deployed in enterprise, government, industrial, telecom and cable networks worldwide. For product and reseller information, contact Omnitron's sales department by phone at 800-675-6410 or 949-250-6510, or by e-mail at [email protected]
# # #
OmniConverter® and RuggedNet® are registered trademarks of Omnitron Systems Technology, Inc